To read this on our official blog site, go to:
Lenders. Why Going Local Is The Logical Choice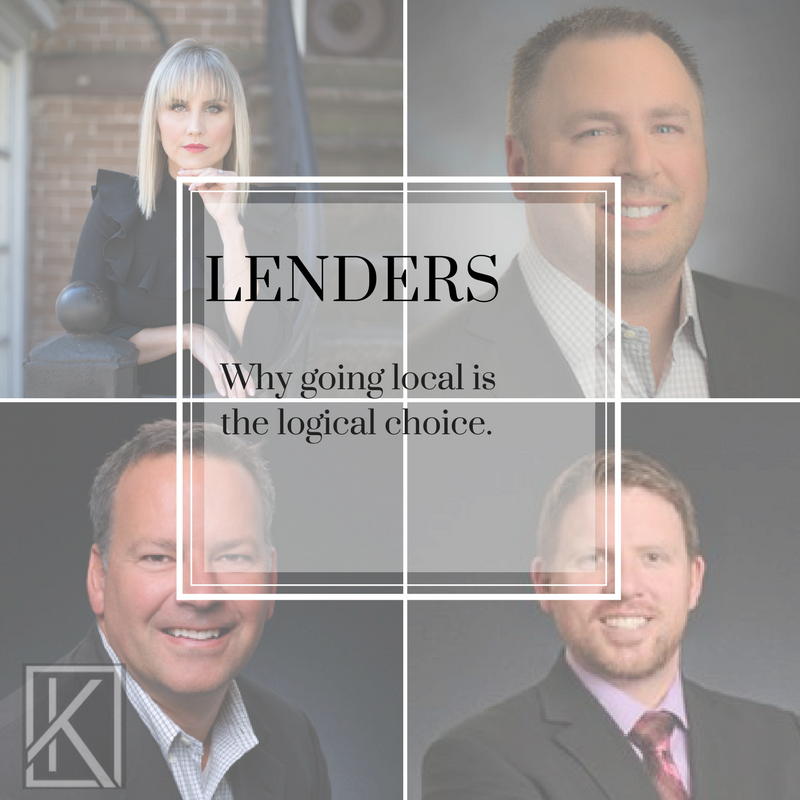 Lenders: why going local is the only logical choice.
Lending. Unless you are a cash buyer and have lots of liquid funds (you lucky duck), chances are you will be in the market to get financing from an institution that offers mortgage lending. Working with lenders is much like working with real estate agents. There are a plethora of choices out there with different values and varying levels of service.
If you've been following our blogs, you will know that we believe it to be imperative that you ask your prospective real estate agents the hard questions. With thousands of agents to choose from, that means heavily inquiring about their experience, their service and their reputation to make sure that they stand out from the crowd. It's exactly the same for lenders.
When we begin to talk to people about the lending process and offer up some suggestions, the response we normally hear is this.
"I bank with **enter bank's name here** so I'm going to get my mortgage loan through them. Besides, they will give me the best rate for being a loyal customer."
First, that's just not true. but here's the thing you really need to know – the service you receive by your lender directly affects the run of the transaction. As a previous Transaction Coordinator, I can tell you that who you work with on the lending side can make or break a home purchase, as they are interwoven into every step of the process. So, we make it our business to research and partner with the best in the industry. From our experience, working with a local, Madison based lender, whose company specializes in home loans is the only way to guarantee a smooth and stress-free experience.
Here's why.
Customer Service
Our number one reason to choose a local, Madison based lender is the most important – you want to make sure you are guaranteed a high level of customer service. For national banks, you are often put into a big pool and it's first come first serve when it comes down to who you are assigned to. Therefore, you can be working with someone half way across the country who isn't familiar with the Madison market, doesn't fully grasp the timeline and is difficult to get hold of. You won't have met with them and they don't have the face to face accountability. The home buying process is full of dates and deadlines and if you have a lender who doesn't understand the Madison or even Wisconsin market, your home purchase can very quickly descend into a stressful situation.
Local lenders are based in Madison. They live in Madison, they work in Madison. Their clients live in the same neighborhoods and they are interviewed face to face. This means that their level of accountability is much higher. Not to mention, they are invested in the market, understand the numbers and have your back.
We want to provide an unparalleled experience and guarantee you an excellent level of service across all channels, which is why we have a couple of lenders that we work with on a regular basis who have the same values, the same standard of customer care and the same dedication to "getting shit done".
The Mortgage Bank
There is a common misconception that if you work with your bank or credit union, you will get a better deal. Sometimes, they offer classes giving you a credit or say that they will reward you for being a loyal customer. However, what you don't know, is that local mortgage banks can match most offers you are given and often have more flexibility in working with your specific situation. Not to mention, with mortgages being their bread and butter, they are more invested in making themselves more competitive entities.
Think about it, why would larger corporations with split focuses pour their money into improving their loan options when it's only one piece of what they offer. It's kind of like working with a part time realtor who has a substantially more limited experience of the market…why wouldn't you pick someone who is fully invested in the industry?
Mortgage banks are ALL ABOUT MORTGAGES so it makes sense that they would offer a better deal and provide a better service.
Local Appraisers
One key stage of a transaction is the appraisal. When you ask the lenders for a loan, they don't take it at face value that the home you are buying is worth what you are paying for it. So they send in an appraiser, who looks at the market and condition of the home and makes sure that the property is worth the amount they are lending to you.
Bigger banks will pull their appraiser from a pool of appraisers who are from all over the state and again, don't understand the market in which your property is located. This creates much higher risk for you.
These smaller stages throughout the accepted offer process can make or break deals. It's so important you know that your lender has your back through every step of the process.
Look, we get that it's so much easier to go with what you know. Familiarity is comfortable and comforting. But I would really encourage you to ask your realtor for their recommendations and make sure they are from local, mortgage banks. Chances are that if they have enough experience or established relationships, they can make a really solid recommendation.
For our top three Madison based lenders, click here!