To read this on our official blog site, go to:
Keeling Capital – Zumba With Trish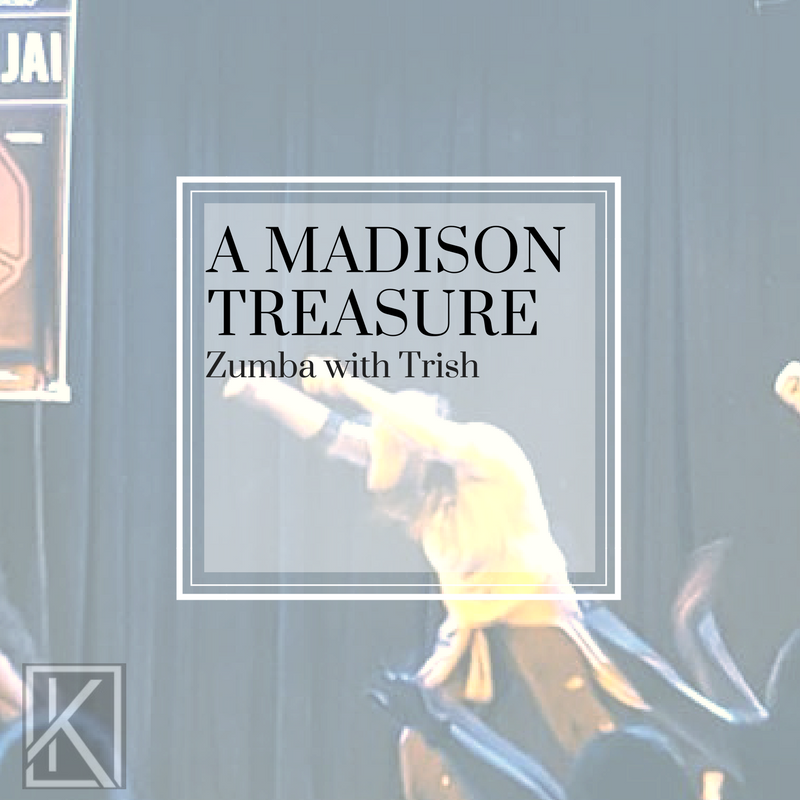 For the longest time, the word exercise wasn't really in my vocabulary. Although Madison doesn't exactly preach a stagnant lifestyle, I was struggling to keep consistent and needed something I could keep motivated to do across all seasons. So I tried it all … gym memberships, walking, body combat classes, hot yoga. Everything I tried seem short lived. I lost interest and motivation. Nothing was fun enough to make me want to continue exercising on a regular basis – until I found Zumba with Trish.
When you think of your average Zumba class what do you picture? Harsh lighting, walls of mirrors where you constantly critique your every move, trying not to make eye contact with the people around you in case you trip and fall and can never show your face in public EVER again…I know that this is what I imagined. So when a friend of mine suggested we try one of Trish's classes, I was hesitant. Like, it literally took me about 18 months to agree to give it a go. But one rainy day in April I decided to go for it and I haven't looked back since.
Zumba With Trish is different from your standard Zumba classes. On Monday and Thursday nights, Zumba With Trish is held at local bars/clubs – Red Zone on Regent Street and FIVE Nightclub on Fish Hatchery Road. This means no mirrors, no harsh lighting and bass like you wouldn't believe. Think clubbing without the alcohol – although there are a few of us who meet early for a quick one before class. 😉
Run by a husband and wife team Trish and Jonnie, it's a family run business, with a family friendly vibe. So what keeps me coming back?
Trish. The woman behind the moves – trust me, this woman can dance. I mean really dance. Her energy exceeds all expectations every single time. She is loving, welcoming and everything she does comes from the heart. Jonnie, the DJ, is a professional in the Madison area and brings his skill to each class, ensuring we have the best bass, the best beats and the best club lighting to match.
Community. Because of the genuine heart she brings to class, Trish has attracted and created a community that I have yet to see rivaled in the Madison area. It is so rare to walk into an environment and immediately feel welcomed by such a diverse crowd of people. Not to mention, there is zero judgement and zero expectation. If you make a mistake, so what? If you want to sit out for a song, so what? If you want to tweak the moves a bit, DO it. Do you.
Affordability. At $7 a class as a drop-in (or less if you buy passes in bulk), it's become a non-negotiable for me.
FUN. Most importantly of all, I ALWAYS have fun. There are consistent woop whoops coming from all areas of the room. The energy is electric and I would bet you any money you cannot help but smile through class.
These classes aren't for the faint hearted – they usually run for a hour and a half (ish) and include songs from a number of different genres. There is stunning latino based music, but also a hearty chunk of pop/hip-hop music as well (our current playlist includes Beyonce's 'Mi Gente' and Jason Derulo's 'Tip Toe').
And hey, if you would rather do a shorter class with better lighting and mirrors – come to the Saturday morning class at 9.30 am at the Dance Easy studio – Trish teaches there too!
For anyone looking to get into the Zumba world, this is a Madison must!! Get updates by following their Facebook page at: Zumba With Trish
6.30 pm – Mondays at Red Zone on Regent Street ($7)
6.30 pm – Thursdays at FIVE Nightclub on Fish Hatchery Rd ($7)
9.30 am – Saturdays at Dance Easy Studio ($5)